The Subtle Signs of an Inadequate Power Supply
Your power supply unit (PSU) is the brick-shaped object in your PC that supplies power to the machine. It's where you plug in and turn on your PC, and it's also where the main system fan is located.
Believe it or not, a computer system that uses an internal power supply gives you subtle clues that your power supply is failing, has failed, or is simply inadequate. Diagnosing whether your power supply is inadequate, or your video card is inadequate, is simple if you know what to look for. There are other subtle signs that tell you that your PSU is bad.
An inadequate power supply means the wattage rating isn't high enough to handle a good video card or the rest of the components in your PC. This is typical for most budget desktops. It's important that the power supply is able to handle an upgrade.

This is a Corsair power supply, which is a good brand.
If your computer reboots without warning, it can be a sign of a bad power supply. A computer is designed to stay on as long as it is needed, or will hibernate or shut down based on whatever settings you specify. A computer normally reboots when Windows installs a software update. If your computer reboots for no reason at all, it can be a sign that it is not receiving enough electrical output.
The Blue Screen of Death and Other Troubleshooting Methods
In Windows-based desktops, the infamous "Blue Screen of Death" (BSoD) can be another sign of a bad power supply. Many things can cause the "Blue Screen of Death," such as an update conflict or improperly installed drivers. While there are many other things that can cause the "Blue Screen of Death," if your power supply is failing, the "Blue Screen of Death" can occur randomly. Here are some signs that a power supply is bad or inadequate:
An inadequate power supply can cause system instability such as no boot, random reboots, or hangs.
If you run an application and it crashes or hangs often, it could be a bad or inadequate power supply.
If there are dots, lines, or flashes on the screen.
If you can't run graphics-intensive games or applications, but your video card is adequate, that is another sign that your power supply is not providing adequate power.
Overloaded Video Card or Inadequate Power Supply
Before you go replacing your power supply unit or video card, check the power requirements of the video card and the wattage output of your power supply unit. In many cases, it may be that your video card is inadequate to handle the application you are running. You can check the recommended specifications of the application and match it with your video card model. If your game or application crashes, you can try starting the program at the lowest graphical settings as possible and see if the program stays on longer. If it stays on longer, then it could be either your video card and/or your power supply unit.
Wattage Calculation and Replacing the Power Supply
There is really only one thing you can do to fix your power supply issue, and that is order a new one with higher wattage output. Your best bet is to stick with name brand products such as XFX, Seasonic, Corsair, and Antec. If you buy a better or bigger video card, chances are, you going to need a bigger PSU. A good way of circumventing the complex process of calculating PSU requirements is to buy a new video card and PSU altogether. Your video card may have other power requirements on the package, such as voltage, so it's good to check that the video card and PSU match up.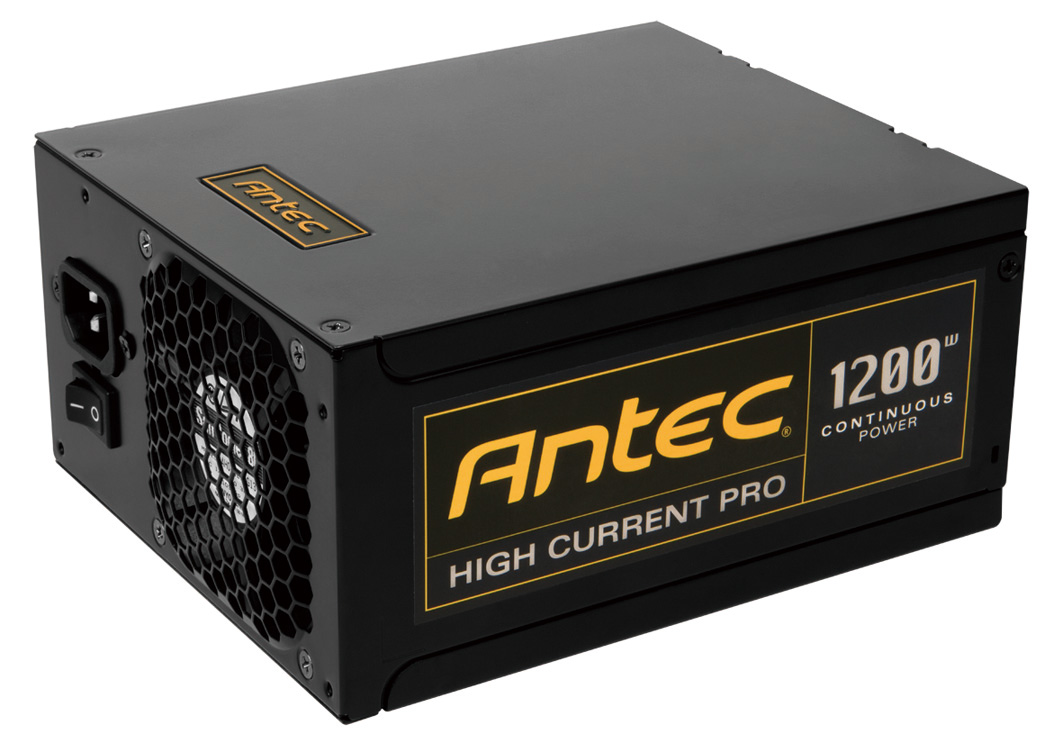 This is an Antec power supply, also a good brand. PSUs have fans built in.
If you need a PSU just for everyday tasks, a 500-600 watt PSU would suffice. If you need a heavy gaming PSU to play the latest games at the highest settings, it is recommended that you get at least a 700-750 watt PSU, but make sure the PSU will fit the computer case. It has to fit the case and have the right pin-connectors to connect to the motherboard.